Canon Legria HF M31
Camcorder Review
This review is organized into 16 parts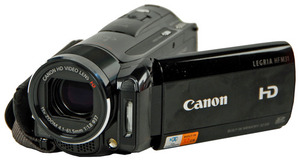 Introduction

The HF M31 is a new mid-range HD camcorder from Canon that is essentially last year's Canon HF20 with a few minor tweaks and updates—including a new touch-screen interface and a slick menu redesign. The camcorder captured some high-quality video in our bright light tests, but its low light
performance was mostly a disappointment.

| | | |
| --- | --- | --- |
| Section | The Good | The Bad |
| Product Tour | Automatic lens cover | Same size sensor as last year's HF20 and HF200 |
| Colour & Noise Performance | Good saturation levels in bright light | Colour accuracy wasn't great; noise levels were too high |
| Motion & Sharpness Performance | Excellent sharpness scores and good motion performance. | None |
| Low Light Performance | Noise levels weren't much of a problem in low light. | Sensitivity was a disappointment |
| Compression & Media | 32GB internal flash memory; multiple quality settings for recording video | No standard definition record mode |
| Manual Controls | Most manual controls are covered—aperture, shutter speed, exposure, white balance, and gain. | All controls must be adjusted using touch-screen interface (no lens ring or dial). |
| Still Features | Built-in flash; multiple continuous shooting modes; good colour accuracy in still photos | Camcorder tops out with 3.31-megapixel resolution for still images. |
| Handling & Use | New menus are stylish and look nice; padded hand strap is top-notch | Right side is a bit uncomfortable; touch-screen can be frustrating to use at times |
| Playback & Connectivity | Good playback interface | The hand strap gets in the way of right-side ports. |
| Audio & Other Features | External mic jack is great; lots of manual audio controls | None |
Loading Recently Viewed Products
10-Mar-2011

Kodak Playsport Zx3 Camcorder Review

The Playsport Zx3 is an exciting ultracompact camcorder from Kodak that combines a Full HD recording capability with a body that is waterproof up to 3 meters. The camcorder's durable construction, and did surprisingly well in our video testing. Read More...
Top Rated Camcorders
1

With the HDC-SDT750, Panasonic is bringing 3D videography to the masses. It is definetly not cheap, but it is still comparable in cost to other flagship models. Read full 17-part review

£764.95

2

As the update to Panasonic's 300-series, the expectations for the Panasonic HDC-TM700 are high.. Read full 16-part review

£764.95

3

With the Legria HF G10, Canon's latest flagship camcorder, the company decided to use a completely different image sensor with a smaller amount of pixels. If you check out the results from our performance testing, you'll quickly see the change paid off—particularly in low light situations. Read full 16-part review

4

Other than a new silver paint job, JVC's newest flagship model, the Everio GZ-HM1, looks exactly like its predecessor, the GZ-HM400. JVC's biggest alteration comes in the form of a back-illuminated CMOS sensor that did wonders in improving the low light performance of this new model. Read full 16-part review

£966.50

5

Canon's new flagship model, the HF S21, has a lot of exciting new features and controls. Its 64GB of internal flash memory, two SD/SDHC memory card slots, and the touchscreen LCD make the HF S21 one of the most appealing camcorders of 2010. Read full 17-part review

£966.50