JVC Everio GZ-HD620
Camcorder Review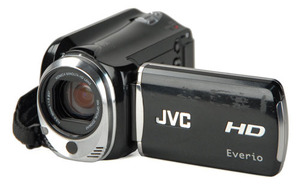 Part 2
Colour & Noise Performance Summary
Colour (10.57)
JVC camcorders often have the best colour accuracy amongst consumer models, and the GZ-HD620 follows this trend. In bright light, the camcorder managed a colour error of just 3.31 and a saturation level of 81.78%, both of which are excellent numbers. The HD620 even managed to render better colours than it's big sister the JVC GZ-HM1. (More on how we test colour.)
Colour Accuracy Performance
Colour Test Chart (above), Colour Error Map (right)
The JVC GZ-HD620 produced a colour error of 3.31 saturation level of 81.78% in our bright light colour testing. (The map on the right is a diagram of the colour error. The length and direction of each line indicates how the camcorder processed each particular colour.)
The Colour Error Map shown above tells us that the GZ-HD620 did a very good job rendering blue and red tones accurately, but the camcorder had some trouble with greens and yellows. Overall, we like the way the camcorder captured colours very much, and we seem to say that about most camcorders from JVC. Unfortunately, the GZ-HD620 does not have any colour controls or colour modes, so the only sample image we can show you is from our auto mode footage (below).

JVC GZ-HD620 Colour Modes
Auto
100% Crop
All of the camcorders we compared the GZ-HD620 to (see the images below) produced pleasing colours in our bright light test. They also all had a different way of rendering certain colours. Since colour quality depends more on personal preference than anything else, we urge you to check out the images below and the close-up comparisons that follow to get a better idea of how each camcorder renders colours in bright light.

Noise (10.15)
The GZ-HD620 averaged 0.575% noise in our bright light test, and we usually consider any noise levels around 0.5% as very good. The Panasonic HDC-HS60 measured the highest noise, but still under 1%. All camcorders we compared the HD620 to did well in this test. (More on how we test noise.)

Usually, it is difficult to see any noise in bright light images (this changes in low light), but the crops shown above provide us with another use: determining sharpness and detail. The GZ-HD620 produced a bold image, but it wasn't quite as sharp as what we saw from the Canon HF M31 or the JVC GZ-HM1. Continue to the next section of this review (Motion & Sharpness) to read more about our sharpness test.

Loading Recently Viewed Products
10-Mar-2011

Kodak Playsport Zx3 Camcorder Review

The Playsport Zx3 is an exciting ultracompact camcorder from Kodak that combines a Full HD recording capability with a body that is waterproof up to 3 meters. The camcorder's durable construction, and did surprisingly well in our video testing. Read More...
Top Rated Camcorders
1

With the HDC-SDT750, Panasonic is bringing 3D videography to the masses. It is definetly not cheap, but it is still comparable in cost to other flagship models. Read full 17-part review

£764.95

2

As the update to Panasonic's 300-series, the expectations for the Panasonic HDC-TM700 are high.. Read full 16-part review

£764.95

3

With the Legria HF G10, Canon's latest flagship camcorder, the company decided to use a completely different image sensor with a smaller amount of pixels. If you check out the results from our performance testing, you'll quickly see the change paid off—particularly in low light situations. Read full 16-part review

4

Other than a new silver paint job, JVC's newest flagship model, the Everio GZ-HM1, looks exactly like its predecessor, the GZ-HM400. JVC's biggest alteration comes in the form of a back-illuminated CMOS sensor that did wonders in improving the low light performance of this new model. Read full 16-part review

£966.50

5

Canon's new flagship model, the HF S21, has a lot of exciting new features and controls. Its 64GB of internal flash memory, two SD/SDHC memory card slots, and the touchscreen LCD make the HF S21 one of the most appealing camcorders of 2010. Read full 17-part review

£966.50
Features
Camcorderinfo.co.uk Select Awards 2009

It's time once again for our annual CamcorderInfo select awards. Each year, we honor the camcorders that really rise above the rest during our review process. The camcorders you'll read about below have all survived a battery of tests—tests that are designed to give every camcorder fair and equal treatment. These models have also been carefully compared to the competition. Read More...