JVC Everio GZ-HD620
Camcorder Review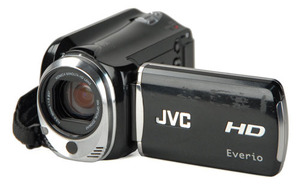 Part 8
Handling & Use Summary
Ease of Use (6.5)
The GZ-HD620 can be a simple camcorder to use, but it is not without its quriks and frustrations. We like the camcorder's dedicated auto mode; it is simple to activate and it still lets you access the menu to adjust certain features (just not manual controls). What we don't like, however, is the ridiculously long menu on the camcorder that can make it difficult to find specific options. Every setting is grouped under the main menu and you have to dig through multiple submenus to find certain controls—some of which are placed in odd and confusing locations.

Thankfully, there is a good tool tip feature that can help you figure out what certain settings in the menu actually do. The tool tip option is simple to use and the tips are easy to read (you just press the "?" icon before selecting a menu option). The manual for the GZ-HD620 isn't full of details, but it covers most things well.

The menu is easy to figure out, but some settings
can be difficult to find in the long list of options.

Handling (5.25)
The GZ-HD620 has a very similar design to last year's JVC GZ-HD320. This means it is compact, has a fairly comfortable design, but also comes with one of the worst hand straps we've seen on a mid-range camcorder. The strap is barely more than a thin piece of string with some velcro glued to it to make it adjustable. You can disconnect the hand strap so that it hangs off the side of the camcorder in the form of a wrist strap if you want to, but we find this makes the GZ-HD620 a bit difficult to hold for long periods of time.



The camcorder is fairly light and compact,
but it has a cheap body design.


The Laser Touch can be
annoying to use.

In addition to the poorly-designed hand strap, the GZ-HD620 also has a slightly uncomfortable ridge on the top of the camcorder. This ridge (perhaps it's more of a "bump") is on the camcorder because of the 120GB internal hard drive that is built into the side of the HD620. It isn't terribly uncomfortable, but you do have to wrap your hands over it and it may dig into the underside of your fingers a bit. We prefer the smooth, rounded edge that JVC offers on its flash memory camcorders (like the GZ-HM1).

The bump created by the internal hard drive makes
the GZ-HD620 a bit uncomfortable to hold.

The other major handling issue with the GZ-HD620 is something that is present on all of JVC's consumer camcorders, with the exception of the ultracompact Picsio line. We're talking about the Laser Touch strip, of course, and we've found the strip can be both a frustration and a benefit. What the strip is good for is scrolling through long menu lists or making big manual adjustments. What it is bad for is precise control, and by this we mean selecting a specific menu option or fine focus adjustment. Yes, you do get use to the strip after a while, but we think it is more imprecise and finicky than a touch-screen interface—and we'd much prefer the presence of a ring or dial for adjusting manual controls.

The hand strap on the camcorder is thin, flimsy, and not comfortable.
Stabilisation (3.28)
The GZ-HD620 has a digital image stabilisation (DIS) system that offers two settings (normal and active). DIS is usually not favored over optical image stabilisation (OIS) systems because DIS can result in image degradation when used. Nevertheless, the DIS implemented on the HD620 was reasonably effective (especially compared to the poor OIS on the Canon HF M31). In our low shake test, the GZ-HD620 was able to reduce 19% of the shake using its Active Mode DIS option. With our test set to high shake, the camcorder reduced 31% of the shake with the same setting. (More on how we test stabilisation.)
JVC GZ-HD620 Stabilisation Effectiveness
19% correction at low shake (above)

31% correction at high shake (below)
The GZ-HD620 was slightly less effective reducing the shake with its standard DIS mode (18% in low shake, 17% in high shake) than with its Active Mode. If you're really concerned about stabilisation performance, though, we have to recommend the Panasonic HDC-HS60 or, of course, the GZ-HM1 over the GZ-HD620. Both of those camcorders—particularly the HM1—did much better in our stabilisation test, and they offer optical stabilisation systems that don't degrade image quality.

Portability (10.08)
Despite the fact that it contains an embedded 120GB hard drive, JVC managed to keep the GZ-HD620 relatively light and compact. This is especially the case when you compare the camcorder's weight to that of the competition (see table below). The Panasonic HDC-HS60 has nearly the identical proportions to the GZ-HD620, but it too is also a bit heavier. The Canon HF M31 and the JVC GZ-HM1 are not only much heavier than the GZ-HD620, but also quite a bit bulkier, even though both have internal flash memory - and less of it too.

The GZ-HD620 is light enough to grab on the go, but it isn't as compact as the ultracompact pocket camcorders (like the Flip) that are very popular right now. Don't expect to be able to slip the HD620 in and out of your pocket with ease—it may fit (if your pockets are very spacious), but it won't be comfortable.

| | | | | |
| --- | --- | --- | --- | --- |
| | JVC GZ-HD620 | Panasonic HDC-HS60 | Canon HF M31 | JVC GZ-HM1 |
| Primary Media | 120GB internal hard drive | 120GB internal hard drive | 32GB internal flash memory | 64GB internal flash memory |
| Secondary Media | MicroSD | D/SDHC/SDXC memory card | SD/SDHC memory card | SD/SDHC memory card |
| Weight | 310g (with battery) | 375g (with battery) | 400g (with battery) | 485g (with battery) |
| Size | 53 x 63 x 115mm | 51.5 x 65.5 x 112mm | 70 x 62 x 1243mm | 67 x 72 x 141mm |
Battery Life (4.95)
The GZ-HD620 lasted for 99 minutes in our battery life test, which is just a few minutes less than the competition lasted. Anything around 100 minutes is average for a mid-range camcorder, so if you need longer performance than that you should buy some extra battery packs. The GZ-HD620 does have an open battery compartment, so you can fit in larger battery packs that should get you longer-lasting performance than the pack that comes with the camcorder. (More on how we test battery life.)
Battery Life Comparisons
The battery compartment is open, so you can buy
larger batteries to work with the camcorder.
LCD & Viewfinder (7.17)
The LCD on the GZ-HD620 is the standard 2.7-inch variety and the camcorder has no viewfinder (this is the norm for a mid-range model). The resolution of the LCD is a bit low compared to what most other manufacturers offer, but this doesn't have a huge impact on recording.

The LCD is 2.7-inches in size, but its resolution is nearly half that of
what we normally see on mid-range camcorder LCDs.

JVC remains one of the few manufacturers to hold out on implementing a touch-screen interface on its camcorder's LCDs. Instead, models like the GZ-HD620 offer JVC's Laser Touch Strip and touch-sensitive buttons along the base of the LCD panel. The Laser Touch is similar to using a touch-screen in some ways, and it shares some of the same frustrating tendencies, but it allows you to keep the LCD free of fingerprints.
| | | | | |
| --- | --- | --- | --- | --- |
| | JVC GZ-HD620 | Panasonic HDC-HS60 | Canon HF M31 | JVC GZ-HM1 |
| LCD Size | 2.7 inches | 2.7 inches | 2.7 inches | 2.8 inches |
| LCD Resolution | 123,000 pixels | 230,400 pixels | 211,000 pixels | 207,000 pixels |
| Touchscreen | No | Yes | Yes | No |
| Viewfinder | No | No | No | No |
Loading Recently Viewed Products
10-Mar-2011

Kodak Playsport Zx3 Camcorder Review

The Playsport Zx3 is an exciting ultracompact camcorder from Kodak that combines a Full HD recording capability with a body that is waterproof up to 3 meters. The camcorder's durable construction, and did surprisingly well in our video testing. Read More...
Top Rated Camcorders
1

With the HDC-SDT750, Panasonic is bringing 3D videography to the masses. It is definetly not cheap, but it is still comparable in cost to other flagship models. Read full 17-part review

£764.95

2

As the update to Panasonic's 300-series, the expectations for the Panasonic HDC-TM700 are high.. Read full 16-part review

£764.95

3

With the Legria HF G10, Canon's latest flagship camcorder, the company decided to use a completely different image sensor with a smaller amount of pixels. If you check out the results from our performance testing, you'll quickly see the change paid off—particularly in low light situations. Read full 16-part review

4

Other than a new silver paint job, JVC's newest flagship model, the Everio GZ-HM1, looks exactly like its predecessor, the GZ-HM400. JVC's biggest alteration comes in the form of a back-illuminated CMOS sensor that did wonders in improving the low light performance of this new model. Read full 16-part review

£966.50

5

Canon's new flagship model, the HF S21, has a lot of exciting new features and controls. Its 64GB of internal flash memory, two SD/SDHC memory card slots, and the touchscreen LCD make the HF S21 one of the most appealing camcorders of 2010. Read full 17-part review

£966.50
Features
Camcorderinfo.co.uk Select Awards 2009

It's time once again for our annual CamcorderInfo select awards. Each year, we honor the camcorders that really rise above the rest during our review process. The camcorders you'll read about below have all survived a battery of tests—tests that are designed to give every camcorder fair and equal treatment. These models have also been carefully compared to the competition. Read More...