Kodak Playsport Zx3
Camcorder Review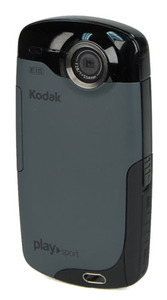 Part 10
Audio & Other Features


Manual audio level adjustment. Built-in mic records mono audio.
Audio Features (2.25)
It would be hyperbole to suggest that the Kodak Playsport is loaded with audio controls, but the camcorder does have one audio option that is rarely found on ultracompact models—manual audio level control. Kodak first implemented this feature on last year's Zi8, which also has an external microphone jack, but it was not found on the Playsport's predecessor, the Kodak Zx1. The manual audio control's on the Playsport aren't anything incredibly impressive, but the setting does have 10 increments of audio level adjustment available. While adjusting the audio levels, there's also an audio level display that appears on the screen.
Of course, these audio level controls are somewhat trivial when you consider the Playsport's built-in mic records sub-par, monaural audio. If you truly want good audio with your video you probably should be using a higher-end camcorder anyway (or something with an external mic input).
See that tiny horizontal slit in the photo above?
Yup, that's the built-in microphone.
| | | | | |
| --- | --- | --- | --- | --- |
| | Kodak Playsport | Kodak Zx1 | Picsio GC-WP10 | Sony Bloggie Touch |
| External Mic | No | No | No | No |
| Headphone | No | No | Yes | No |
| Built-in Mic | Mono | Mono | Stereo | Mono |
| Accessory Shoe | No | No | No | No |
| Audio Level Display | Yes (in menu only) | No | Yes (MP3 mode only) | No |
| Audio Level Control | Yes | No | No | No |
| Test Tone | No | No | No | No |
| Zoom Mic | No | No | No | No |
| Wind Cut | No | No | Yes | No |
| Other Audio Feature(s) | None | None | Headphone volume adjustment | None |
Other Features (2.0)
Waterproof
Yes, the Kodak Playsport can record underwater as long as you don't go below 3 metres (roughly 10 feet). We tested the Playsport a few times to see how the camcorder withstood being submerged and we must say it did quite well. The camcorder is easy to hold underwater and its water-resistant body dries off very quickly. The camcorder has an 'underwater' mode in its settings menu, but we didn't really see much of a reason to use it (there's also no information about what this mode does in the Playsport's manual). The only noticeable effect of this mode is that it gives your footage a strong, orange hue, which may assist with boosting the brightness or saturation when you are recording underwater. We recorded fine underwater footage with this mode turned off, however, and didn't notice any problems (and the colours weren't saturated with an orange tint).
Opening the port covers after the Playsport had been underwater for a few minutes, we did find that some liquid had made its way into this are of the camcorder. However, these covers appear to have a second ring of protection that blocks water from actually getting to the ports. You just have to be sure to dry off any liquid that is near the ports before you connect cables, insert new memory cards, or remove the battery pack from the Playsport.
Below we have sample videos taken with the Playsport underwater. The footage was recorded in a sink filled with tap water, so the liquid is definitely a whole lot cleaner than what you'd get in a lake or pond, but it should be similar to the experience of recording in a clean swimming pool. The first video is with the underwater mode turned on, while the second video was shot using the camcorder's regular record mode.
Underwater video shot with the Playsport's H20 underwater mode turned off.
Underwater video shot with the Playsport's H20 underwater mode turned on.

Kodak listed the Playsport's focus range underwater as or 1.33 metres to infinity, which means you have to be reasonably far away from your underwater subject in order for it to be in focus. This may not be an issue in a clear swimming pool, but if you're recording wildlife in an ocean or lake it is probable that your own visibility may be less than 1.33 metres, which means you may have difficulty recording a focused image. This is something to think about before you take the Playsport along with you on your deep sea diving adventure.
NTSC/PAL Output
You can switch between NTSC and PAL output on the camcorder, which is good if you travel overseas and are planning on connecting the Playsport to a PAL television. Switching the camcorder to PAL signal doesn't alter the way it records video, all it does is change the output signal for playback.
Loading Recently Viewed Products
10-Mar-2011

Kodak Playsport Zx3 Camcorder Review

The Playsport Zx3 is an exciting ultracompact camcorder from Kodak that combines a Full HD recording capability with a body that is waterproof up to 3 meters. The camcorder's durable construction, and did surprisingly well in our video testing. Read More...
Top Rated Camcorders
1

With the HDC-SDT750, Panasonic is bringing 3D videography to the masses. It is definetly not cheap, but it is still comparable in cost to other flagship models. Read full 17-part review

£764.95

2

As the update to Panasonic's 300-series, the expectations for the Panasonic HDC-TM700 are high.. Read full 16-part review

£764.95

3

With the Legria HF G10, Canon's latest flagship camcorder, the company decided to use a completely different image sensor with a smaller amount of pixels. If you check out the results from our performance testing, you'll quickly see the change paid off—particularly in low light situations. Read full 16-part review

4

Other than a new silver paint job, JVC's newest flagship model, the Everio GZ-HM1, looks exactly like its predecessor, the GZ-HM400. JVC's biggest alteration comes in the form of a back-illuminated CMOS sensor that did wonders in improving the low light performance of this new model. Read full 16-part review

£966.50

5

Canon's new flagship model, the HF S21, has a lot of exciting new features and controls. Its 64GB of internal flash memory, two SD/SDHC memory card slots, and the touchscreen LCD make the HF S21 one of the most appealing camcorders of 2010. Read full 17-part review

£966.50
Features
Camcorderinfo.co.uk Select Awards 2009

It's time once again for our annual CamcorderInfo select awards. Each year, we honor the camcorders that really rise above the rest during our review process. The camcorders you'll read about below have all survived a battery of tests—tests that are designed to give every camcorder fair and equal treatment. These models have also been carefully compared to the competition. Read More...