Kodak Playsport Zx3
Camcorder Review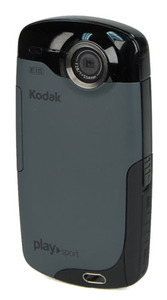 Part 9
Playback & Connectivity Summary


Comes with HDMI cable and USB to wall-plug adapter. D-pad VCR controls can be frustrating.
Playback (3.5)
Playback mode is activated by pressing the dedicated playback button on the back of the Kodak Playsport (it's the button with a small arrow inside a grey rectangle). The playback set-up on the camcorder is actually not too shabby, which is a surprise considering that many ultracompact models have poorly designed playback modes. You can cycle through clips and photos using the d-pad and many clips can be displayed on one screen as thumbnails, or you can shuffle through full-screen previews.
After selecting a clip for playback (by pressing the start/stop record button), you must use the d-pad to activate VCR controls. This can be a bit confusing as the controls aren't labelled on the d-pad at all, but once you figure out what does what it should start to make sense. VCR controls include fast forward, rewind, pause, and frame-by-frame playback. There's no playback menu on the camcorder and the only playback option—other than the VCR controls—is the ability to delete your clips.
| | | |
| --- | --- | --- |
| | | |
| Clips arranged in thumbnail view mode | | The playback display is very simple. |
If using the d-pad during playback doesn't feel comfortable to you, there's always the option of purchasing Kodak's optional remote control. To us, the idea of using a remote control with a camcorder the size of the Playsport seems rather nonsensical, but perhaps there are some consumers who are willing to shell out an extra £10 for Kodak's remote.
Connectivity (2.5)
Since the Playsport is waterproof up to three metres, it should come as no surprise that the ports are extremely well protected on the camcorder. The video connection inputs are located on the right side of the Playsport behind a thick, locking port cover. Opening and closing this port cover can be an occasional challenge due to its locking system, but we'd rather have that minor nuisance than have the possibility of these valuable ports getting exposed when the camcorder is submerged. In this right-side collection of terminals you'll find the USB connector, HDMI, and AV-out port. The ports aren't very well labelled, but there aren't too many of them so it should be easy to figure out what cables connect where (the camcorder ships with cables for all three ports).
The AV-out, HDMI, and USB
ports are all located here.
The Playsport uses a Kodak-proprietary USB terminal so you must use the cable that comes provided with the camcorder. As a bonus, however, the camcorder ships with a USB to wall-plug adapter (similar to what ships with the iPhone or other media players). This means you don't have to connect the Playsport to a computer to charge it, although you still can do that if you choose. The AV-out port is also not the standard 3.5mm jack that you find on most products. Instead, the port works with 2.5mm AV cables, which are rare, but can be found at most electronics stores (Kodak also provides one).

The memory card slot is next to the battery compartment.
Another port cover is located on the left side of the Playsport and it features a similar design to the cover we mentioned above (although this left-side cover is longer). This cover protects the battery compartment and SD/SDHC memory card slot.
| | | | | |
| --- | --- | --- | --- | --- |
| | Kodak Playsport | Kodak Zx1 | Picsio GC-WP10 | Sony Bloggie Touch |
| AV (Composite, RCA) | Yes | Yes | Yes | Yes |
| HDMI | Yes | Yes | Yes | Yes |
| Component | No | No | No | No |
| USB | Yes | Yes | Yes | Yes |
| Audio Input (3.5mm) | No | No | No | No |
| Headphones | No | No | Yes (shares with AV) | No |
| Accessory Shoe | No | No | No | No |
| FireWire | No | No | No | No |
| S-Video | No | No | No | No |
| LANC (Wired Remote) | No | No | No | No |
| Card Slot | SD/SDHC | SD/SDHC | SD/SDHC/SDXC | None |
| DC Power | Yes (via USB adaptor) | Yes | No | No |
| Wi-Fi | No | No | No | No |
| GPS | No | No | No | No |
| Docking Station | No | No | No | No |
Loading Recently Viewed Products
10-Mar-2011

Kodak Playsport Zx3 Camcorder Review

The Playsport Zx3 is an exciting ultracompact camcorder from Kodak that combines a Full HD recording capability with a body that is waterproof up to 3 meters. The camcorder's durable construction, and did surprisingly well in our video testing. Read More...
Top Rated Camcorders
1

With the HDC-SDT750, Panasonic is bringing 3D videography to the masses. It is definetly not cheap, but it is still comparable in cost to other flagship models. Read full 17-part review

£764.95

2

As the update to Panasonic's 300-series, the expectations for the Panasonic HDC-TM700 are high.. Read full 16-part review

£764.95

3

With the Legria HF G10, Canon's latest flagship camcorder, the company decided to use a completely different image sensor with a smaller amount of pixels. If you check out the results from our performance testing, you'll quickly see the change paid off—particularly in low light situations. Read full 16-part review

4

Other than a new silver paint job, JVC's newest flagship model, the Everio GZ-HM1, looks exactly like its predecessor, the GZ-HM400. JVC's biggest alteration comes in the form of a back-illuminated CMOS sensor that did wonders in improving the low light performance of this new model. Read full 16-part review

£966.50

5

Canon's new flagship model, the HF S21, has a lot of exciting new features and controls. Its 64GB of internal flash memory, two SD/SDHC memory card slots, and the touchscreen LCD make the HF S21 one of the most appealing camcorders of 2010. Read full 17-part review

£966.50
Features
Camcorderinfo.co.uk Select Awards 2009

It's time once again for our annual CamcorderInfo select awards. Each year, we honor the camcorders that really rise above the rest during our review process. The camcorders you'll read about below have all survived a battery of tests—tests that are designed to give every camcorder fair and equal treatment. These models have also been carefully compared to the competition. Read More...