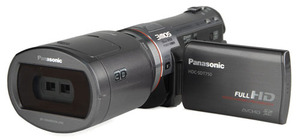 Part 10
Audio & Other Features


• The camcorder has a built-in stereo mic (5-channel), an external mic input, and a headphone jack.
• There's no accessory shoe on the camcorder itself, but it comes with a slide-in shoe adapter.
• The Time Lapse Record feature can be used in conjunction with the 3D conversion lens.
Audio Features (6.0)
There are a lot of audio features on the HDC-SDT750... but don't get your hopes up, audiophiles. None of the audio features on the SDT750 are all that new, by which we mean all of them were previously found on the HDC-TM700 and the HDC-HS700.
For starters, the HDC-SDT750 has a 5.1-channel Dolby Digital microphone located on the top of the camcorder as well as an external mic and headphone jack on the right side. Depending on how you hold the camcorder, you may have some trouble accidentally rubbing the built-in mic with your fingertips, so be careful.
As for internal settings, you can perform manual audio level adjustments, view audio level displays, adjust bass controls, and turn on an advanced wind cut feature called Wind Noise Canceler. You can also siwitch the built-in mic over to record 2-channel stereo or turn on its zoom mic feature (which allows the mic to "center-in" on audio coming from a subject the lens is zoomed into).
| | | | | |
| --- | --- | --- | --- | --- |
| | Panasonic HDC-SDT750 | Canon HF S21 | Sony HDR-CX550V | Panasonic HDC-TM700 |
| External Mic Jack | Yes | Yes | Yes | Yes |
| Headphone | Yes | Yes (shares with AV) | Yes | Yes |
| Built-in Mic | 5.1-channel Dolby Digital | 2-channel stereo | 5.1-channel surround | 5.1-channel Dolby Digital |
| Accessory Shoe | Yes (cold, with slide-in attachment) | Yes (hot, Canon proprietary) | Yes (hot, Sony proprietary) | Yes (cold, with slide-in attachment) |
| Audio Level Display | Yes | Yes | No | Yes |
| Audio Level Control | Yes | Yes | Mic level Normal/Low | Yes |
| Test Tone | No | Yes | No | No |
| Zoom Mic | Yes | No | Yes | Yes |
| Wind Cut | Yes (Wind Noise Canceler) | Yes | No | Yes (Wind Noise Canceler) |
| Other Audio Feature(s) | Bass Settings, Focus Mic, 2-channel stereo option | Microphone Attenuator | 2-channel stereo option | Bass Settings, Focus Mic, 2-channel stereo option |
Other Features (4.0)
Pre Record
A common feature on consumer camcorders, Pre Record lets you capture a few seconds of footage before you press the record button. This footage is stored in a continual buffer, but it only saves the few seconds of video it captures before you start actual recording. Can be very useful for shooting action sequences or sports.
Auto Ground Standby (AGS)
AGS isn't the most useful feature, but it can be helpful for people who have a difficult time remembering to hit the record button when the want to stop recording. With AGS activated, the camcorder will automatically stop recording if it detects the lens as being pointed towards the ground for a period of time. Again, this can be useful, but it can also be an unwanted nuisance if, say, you actually want to film something on the ground.
Fader
An option on the function menu, fader allows you to add faders to your video clips (at the beginning or end).
Time Lapse Record
To capture motion over a long period of time (like a flower blooming) you can use Time Lapse Record. You select a recording interval from 1, 10, 30, 60, or 120 seconds, and the camcorder will capture one frame of video at each of those intervals.

Loading Recently Viewed Products
10-Mar-2011

Kodak Playsport Zx3 Camcorder Review

The Playsport Zx3 is an exciting ultracompact camcorder from Kodak that combines a Full HD recording capability with a body that is waterproof up to 3 meters. The camcorder's durable construction, and did surprisingly well in our video testing. Read More...
Top Rated Camcorders
1

With the HDC-SDT750, Panasonic is bringing 3D videography to the masses. It is definetly not cheap, but it is still comparable in cost to other flagship models. Read full 17-part review

£764.95

2

As the update to Panasonic's 300-series, the expectations for the Panasonic HDC-TM700 are high.. Read full 16-part review

£764.95

3

With the Legria HF G10, Canon's latest flagship camcorder, the company decided to use a completely different image sensor with a smaller amount of pixels. If you check out the results from our performance testing, you'll quickly see the change paid off—particularly in low light situations. Read full 16-part review

4

Other than a new silver paint job, JVC's newest flagship model, the Everio GZ-HM1, looks exactly like its predecessor, the GZ-HM400. JVC's biggest alteration comes in the form of a back-illuminated CMOS sensor that did wonders in improving the low light performance of this new model. Read full 16-part review

£966.50

5

Canon's new flagship model, the HF S21, has a lot of exciting new features and controls. Its 64GB of internal flash memory, two SD/SDHC memory card slots, and the touchscreen LCD make the HF S21 one of the most appealing camcorders of 2010. Read full 17-part review

£966.50
Features
Camcorderinfo.co.uk Select Awards 2009

It's time once again for our annual CamcorderInfo select awards. Each year, we honor the camcorders that really rise above the rest during our review process. The camcorders you'll read about below have all survived a battery of tests—tests that are designed to give every camcorder fair and equal treatment. These models have also been carefully compared to the competition. Read More...