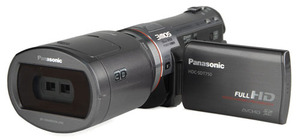 Part 14
Panasonic HDC-SDT750 versus Panasonic HDC-TM700


• Without its 3D conversion lens, the HDC-SDT750 is essentially the same camcorder as the HDC-TM700.
• In fact, the HDC-TM700 is the better camcorder (when you take 3D out of the equation) because it has 32GB of internal memory and it has a much cheaper price tag.
Remove the 3D conversion lens from the HDC-SDT750 and we challenge you to find a significant difference between it and the Panasonic HDC-TM700. There really isn't much of any on the outside (except for a slight lens alteration to accomodate the fitting of the conversion lens), and on the inside the only difference is a new stabilization option and the lack of any internal memory on the SDT750.
In comparing these to models, we must reiterate what we've said throughout this review: if you have no use for recording 3D, the Panasonic HDC-TM700 is a far better deal than the HDC-SDT750. Comparing the list price of the two camcorders, you'll see that the TM700 is $400 cheaper than the SDT750—and the TM700 contains 32GB of internal memory compared to the SDT750's zero. This means, not taking into account the cost of memory, you're paying $400 for the 3D conversion lens on the SDT750. If that seems like a worthy expense to you, then you should splurge for the HDC-SDT750 by all means. Recording 3D is fun, it's unique, and the HDC-SDT750 is the only consumer camcorder out there that is offering it as an option. Plus, you're getting an amazing camcorder for 2D recording as well.
But, if all you want to do is record your life in old-fashioned 2D, then you should save yourself lots of money and buy the HDC-TM700 instead. The camcorder lists for $999, but it can be found for as little as $799 on the web. Recently, we even saw the TM700 listed for $599 on Panasonic's own website. Simply put, that's probably the best camcorder bargain we've ever seen. At this rate, Panasonic may be giving the HDC-TM700 away by the time Black Friday rolls around. Keep your eyes peeled.
Comparison Specs
Panasonic HDC-SDT750
Panasonic HDC-TM700
Price
$1399
$999
Primary Recording Media
SD/SDHC/SDXC memory cards
32GB internal flash memory
Secondary Recording Media
None
SD/SDHC/SDXC memory card
Image Sensor
1/4.1-inch CMOS (x3)
1/4.1-inch CMOS (x3)
Effective Pixel Count
7.59 megapixels (3.05 megapixels x3)
1/4.1-inch CMOS (x3)
Mic Input
Yes
Yes
LCD
3-inch with 230,400 pixels
3-inch with 230,400 pixels
Viewfinder
Yes
Yes
Weight
435g (with battery)
630g (w/battery & 3D converter)
440g (with battery)
Dimensions
66 x 69 x 138mm (body only)
78 x 69 x 235mm (with 3D converter)
66 x 69 x138mm
HD
Yes
Yes
Frame Rates
50i, 50p, 25p
50i, 50p, 25p
Compression
AVCHD (50i)
MPEG-4 original format (50p recording)
AVCHD (50i)
MPEG-4 original format (50p recording)
Maximum Bitrate
28Mbps (1080/50p)
17Mbps (1080/50i)
28Mbps (1080/50p)
17Mbps (1080/50i)
Optical Zoom
12x
(no zoom with 3D converter)
12x
Stabilization
Hybrid OIS
(works with 3D converter)
Hybrid OIS
Scores
Panasonic HDC-SDT750
Panasonic HDC-TM700
Colour
11.51
11.99
Noise
12.06
11.27
Video Sharpness
13.57
13.57
Low Light Sensitivity
5.62
6.3
Low Light Colour
8.21
7.36
Low Light Noise
11.94
11.91
Stabilization Score Comparison
Loading Recently Viewed Products
10-Mar-2011

Kodak Playsport Zx3 Camcorder Review

The Playsport Zx3 is an exciting ultracompact camcorder from Kodak that combines a Full HD recording capability with a body that is waterproof up to 3 meters. The camcorder's durable construction, and did surprisingly well in our video testing. Read More...
Top Rated Camcorders
1

With the HDC-SDT750, Panasonic is bringing 3D videography to the masses. It is definetly not cheap, but it is still comparable in cost to other flagship models. Read full 17-part review

£764.95

2

As the update to Panasonic's 300-series, the expectations for the Panasonic HDC-TM700 are high.. Read full 16-part review

£764.95

3

With the Legria HF G10, Canon's latest flagship camcorder, the company decided to use a completely different image sensor with a smaller amount of pixels. If you check out the results from our performance testing, you'll quickly see the change paid off—particularly in low light situations. Read full 16-part review

4

Other than a new silver paint job, JVC's newest flagship model, the Everio GZ-HM1, looks exactly like its predecessor, the GZ-HM400. JVC's biggest alteration comes in the form of a back-illuminated CMOS sensor that did wonders in improving the low light performance of this new model. Read full 16-part review

£966.50

5

Canon's new flagship model, the HF S21, has a lot of exciting new features and controls. Its 64GB of internal flash memory, two SD/SDHC memory card slots, and the touchscreen LCD make the HF S21 one of the most appealing camcorders of 2010. Read full 17-part review

£966.50
Features
Camcorderinfo.co.uk Select Awards 2009

It's time once again for our annual CamcorderInfo select awards. Each year, we honor the camcorders that really rise above the rest during our review process. The camcorders you'll read about below have all survived a battery of tests—tests that are designed to give every camcorder fair and equal treatment. These models have also been carefully compared to the competition. Read More...