Sony Bloggie Touch MHS-TS20
Camcorder Review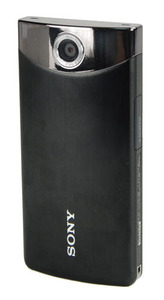 Part 3
Motion & Sharpness Performance Summary


• The Bloggie Touch can record using a 30p frame rate at a 1920 x 1080 resolution, or a 60p frame rate at 1280 x 720 (it can also record 720/30p).
• There is no standard definition record mode on the Bloggie Touch.
• Sharpness levels weren't bad, but other ultracompact models did better.
Motion (7.40)
The Bloggie Touch can record video using a 30p or 60p frame rate, although to record at 60p you must use the 1280 x 720 record mode (Full HD is only available at 1080/30p). In our test video, the camcorder did a good job keeping artefacting to a minimum and producing a crisp image. When we looked closely, we did see some artefacting in the waterfall portion of our test, but it wasn't too noticeable. The video in the camcorder's 1080/30p mode was also choppier than we'd hoped it would be, but the 720/60p setting produce very smooth video. (More on how we test motion.)
Sony Bloggie Touch
Kodak Playsport
Sony MHS-CM5
Picsio GC-WP10
Frame Rate(s)
1080/30p, 720/60p, 720/30p
1080/30p, 720/60p, 720/30p
1080/30p, 720/60p
1080/30p, 720/60p
Artefacting
Much of our test footage looked crisp, but artefacting was prominent in the water fountain.
Artefacting was noticeable, but there was less than we saw on previous Kodak models.
Improvement from previous models, but still a noticeable amount of artefacting in our test.
Noticeable artefacting, but not a hugely distracting.
Smoothness
The 1080/30p setting was very choppy, but the 720/60p mode looked perfectly smooth.
Smooth motion in all shooting modes.
Video looked smooth and impressive for an ultracompact camcorder.
Not the smoothest video, but decent overall.
Trailing
Trailing and blur wasn't a major problem—similar to what we saw from the Sony MHS-CM5.
There was a lot of blur and trailing when using the 1080/30p record mode.
Blur and trailing was a minor problem for the CM5.
Blur and trailing worse than TS20 but better than Playsport.
Frequency
Interference
Interference was a problem in our test and it was noticeable on both rotating pinwheels.
Strong colour bleeding in the RGB pinwheel during our test.
Some straight lines looked choppy during our test.
Lines weren't as jagged, but it was still a problem. There was also quite a bit of blocky pixelation in our test video.
Slow Motion
Mode(s)
None
None
None
Time-Lapse Record
The Bloggie Touch didn't have the best motion performance we've seen from an ultracompact camcorder, but its results in our test weren't all that bad. It had less artefacting than the previous generation Bloggie MHS-CM5, although the CM5 captured smoother video. If Sony could just clean this aspect up a bit, the Bloggie Touch would be well ahead of the pack in terms of its motion rendering capability. The video from the Bloggie Touch shown below was shot by holding the camcorder horizontally, which creates a normal widescreen video (16:9 aspect ratio). Holding the camcorder vertically will result in a much different video image that is tall and thin with black bars on both sides. You can see an example of what we're talking about here.
Video Sharpness (9.34)
The Sony Bloggie Touch MHS-TS20 can record Full HD video, but that didn't translate into a top-notch performance in our video sharpness test. The Bloggie Touch managed a horizontal and vertical sharpness of 600 lw/ph each, which is a bit lower than the sharpness levels we measured from the competition. Even so, this performance from the Bloggie Touch isn't terrible—we just expected better from the camcorder. (More on how we test video sharpness.)
Loading Recently Viewed Products
10-Mar-2011

Kodak Playsport Zx3 Camcorder Review

The Playsport Zx3 is an exciting ultracompact camcorder from Kodak that combines a Full HD recording capability with a body that is waterproof up to 3 meters. The camcorder's durable construction, and did surprisingly well in our video testing. Read More...
Top Rated Camcorders
1

With the HDC-SDT750, Panasonic is bringing 3D videography to the masses. It is definetly not cheap, but it is still comparable in cost to other flagship models. Read full 17-part review

£764.95

2

As the update to Panasonic's 300-series, the expectations for the Panasonic HDC-TM700 are high.. Read full 16-part review

£764.95

3

With the Legria HF G10, Canon's latest flagship camcorder, the company decided to use a completely different image sensor with a smaller amount of pixels. If you check out the results from our performance testing, you'll quickly see the change paid off—particularly in low light situations. Read full 16-part review

4

Other than a new silver paint job, JVC's newest flagship model, the Everio GZ-HM1, looks exactly like its predecessor, the GZ-HM400. JVC's biggest alteration comes in the form of a back-illuminated CMOS sensor that did wonders in improving the low light performance of this new model. Read full 16-part review

£966.50

5

Canon's new flagship model, the HF S21, has a lot of exciting new features and controls. Its 64GB of internal flash memory, two SD/SDHC memory card slots, and the touchscreen LCD make the HF S21 one of the most appealing camcorders of 2010. Read full 17-part review

£966.50
Features
Camcorderinfo.co.uk Select Awards 2009

It's time once again for our annual CamcorderInfo select awards. Each year, we honor the camcorders that really rise above the rest during our review process. The camcorders you'll read about below have all survived a battery of tests—tests that are designed to give every camcorder fair and equal treatment. These models have also been carefully compared to the competition. Read More...