Sony Bloggie Touch MHS-TS20
Camcorder Review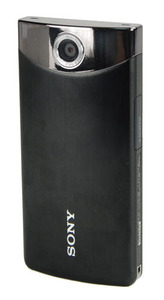 Part 1
Product Tour Summary
Lens & Imaging System
The Bloggie Touch has a small lens, but it records at an
unusually-wide angle for an ultracompact camcorder.

The lens on the Bloggie Touch is tiny, but it is easy to find on the front of the camcorder. We don't want to say the lens is fixed and has no moving parts because we aren't sure—there's definitely an autofocus system on the camcorder, so something is adjusting the lens even if it is ever-so-slightly. Still, Sony doesn't list a focal or aperture range for the camcorder, but instead says the minimum focus distance for the Bloggie Touch is four inches (10cm). Four inches is actually very good for a minimum focus distance on an ultracompact model, as we've seen many camcorders struggle with focusing on close subjects. For comparison, the Kodak Playsport has a minimum focus distance of around five feet (150m).

Lens


Sensor
Filter Diameter
N/A


Type
CMOS
Minimum Focus Distance
10 cm



Size
1/2.5 inches
Focal Range (35mm equiv.)
37 mm


Pixel Count (Gross)
13 megapixels
Aperture
f/2.8


Pixel Count (Effective)
12.8 megapixels
Lab Tested Wide Angle*
54.5°
* How We Test Wide Angle
Front
Right
Back
Left
Top
Bottom
In the Box
Loading Recently Viewed Products
10-Mar-2011

Kodak Playsport Zx3 Camcorder Review

The Playsport Zx3 is an exciting ultracompact camcorder from Kodak that combines a Full HD recording capability with a body that is waterproof up to 3 meters. The camcorder's durable construction, and did surprisingly well in our video testing. Read More...
Top Rated Camcorders
1

With the HDC-SDT750, Panasonic is bringing 3D videography to the masses. It is definetly not cheap, but it is still comparable in cost to other flagship models. Read full 17-part review

£764.95

2

As the update to Panasonic's 300-series, the expectations for the Panasonic HDC-TM700 are high.. Read full 16-part review

£764.95

3

With the Legria HF G10, Canon's latest flagship camcorder, the company decided to use a completely different image sensor with a smaller amount of pixels. If you check out the results from our performance testing, you'll quickly see the change paid off—particularly in low light situations. Read full 16-part review

4

Other than a new silver paint job, JVC's newest flagship model, the Everio GZ-HM1, looks exactly like its predecessor, the GZ-HM400. JVC's biggest alteration comes in the form of a back-illuminated CMOS sensor that did wonders in improving the low light performance of this new model. Read full 16-part review

£966.50

5

Canon's new flagship model, the HF S21, has a lot of exciting new features and controls. Its 64GB of internal flash memory, two SD/SDHC memory card slots, and the touchscreen LCD make the HF S21 one of the most appealing camcorders of 2010. Read full 17-part review

£966.50
Features
Camcorderinfo.co.uk Select Awards 2009

It's time once again for our annual CamcorderInfo select awards. Each year, we honor the camcorders that really rise above the rest during our review process. The camcorders you'll read about below have all survived a battery of tests—tests that are designed to give every camcorder fair and equal treatment. These models have also been carefully compared to the competition. Read More...