The Everio GZ-GX1 is JVC's new flagship camcorder that offers Full HD 60p recording, a 3.5-inch touchscreen, and WiFi capability. The camcorder has the look of a traditional camcorder, which is something we're pleased to see after last year's awkward attempt at a hybrid with the "JVC GC-PX10":http://www.camcorderinfo.com/content/JVC-GC-PX10-Camcorder-Review.htm, and we're excited to get this bad boy into our labs for a full review later this year.
JVC Everio GZ-GX1- Specs
Original Price
899.95
Year
2012
Format
Flash memory
Class
Consumer
HD
Yes
General Type
Basic Budget, Prosumer
Image Stabilization
Optical
3D Capable
No
HD Video Format
AVCHD
Frame Rate(s)
60p, 60i
Primary Audio Format
Dolby Digital 2ch
Primary Media
Memory Card
Secondary Media
None
Tertiary Media
None
Memory Card Type
SD/SDHC/SDXC card
Included Software
Everio MediaBrowser 4 BE
Recording Media
Memory Card
Zoom Control Type(s)
toggle, touchscreen
Optical Zoom
10 x
Advanced Zoom
15 x
Digital Zoom
20 x
Manual Focus
Yes
Manual Focus Control Type(s)
touchscreen
Focus Assist / Peaking
No
Manual Exposure
Yes
Manual Aperture
Yes
Manual Shutter Speed
Yes
Minimum Shutter Speed
1/2.5
Maximum Shutter Speed
1/4000
Manual White Balance
Yes
White Balance Presets
Fine, Cloudy, Halogen, Marine (blue and green)
Manual Gain
Yes
Manual Gain Steps
off, on
Manual Noise Reduction
No
Audio Dubbing
No
Auto / Easy Mode
Yes
Face Detection
Yes
Other Manual Control(s)
tele macro, grid, xv color
Still-Video Hybrid
Yes
Still Image Resolution(s)
3968 x 2976
Flash
Yes
Simultaneous Video / Still Recording
Yes
Self Timer
Yes
Manual ISO
No
Continuous Shot
Yes
Body Type
horizontal
Weight (with battery pack)
395 g
Weight (w/o battery pack)
356 g
Width (mm)
57.00 mm
Height (mm)
63.00 mm
Length (mm)
129.00 mm
Body Color(s)
black
LCD Size (inches)
3.50 in.
LCD Resolution (pixels)
920000 pixels
Touch Screen
Yes
Viewfinder
No
Video Light
Yes
Waterproof
No
Composite (RCA) output
Yes
Composite (RCA) input
No
FireWire
No
Audio-only AV input
No
S-Video
No
USB
Yes
Component output
No
Component input
No
HDMI
Yes
Headphone output
Yes
External Microphone input
No
LANC / Control L
No
Accessory Shoe (Cold)
Yes
Accessory Shoe (Hot)
No
Included Wireless Remote
Yes
WiFi
Yes
GPS
Yes
DC Power
Yes
Docking Station
No
Card Slot 1
SD/SDHC/SDXC
Sister Model Down
GZ-V700
Included Battery
BN-VG114U
Other Accessories
remote control, stylus pen
JVC Everio GZ-GX1 Scores
Rating
Score
Weighting
Color Score
9.41
2.0
Noise Score
11.60
1.0
Wide Angle Score
11.90
0.8
Motion Score
10.45
1.0
Video Sharpness Score
11.97
4.0
Low Light Color Score
9.31
1.25
Low Light Sensitivity Score
4.52
1.5
Low Light Noise Score
5.91
1.25
Compression Score
8.75
1.0
Media Score
5.25
1.5
Editing Score
7.00
0.75
Auto Mode Score
8.40
0.5
Zoom Score
7.25
0.75
Zoom Ratio Score
3.77
0.5
Focus Score
4.50
0.7
Exposure Score
7.30
0.65
Aperture Score
7.50
0.65
Shutter Speed Score
11.80
0.6
White Balance Score
8.00
0.55
Gain Score
2.00
0.5
Color & Image Controls Score
2.00
0.5
Other Manual Controls Score
3.00
0.5
Still Features Score
12.17
0.8
Ease of Use Score
5.75
1.25
Handling Score
3.75
1.25
Stabilization Score
0.00
1.0
Portability Score
7.43
0.8
Battery Life Score
3.90
1.0
LCD & Viewfinder Score
11.03
0.6
Menus Score
2.00
1.0
Playback Score
4.25
0.3
Connectivity Score
6.00
0.8
Audio Features Score
5.25
1.0
Other Features Score
10.00
0.5
Total:
242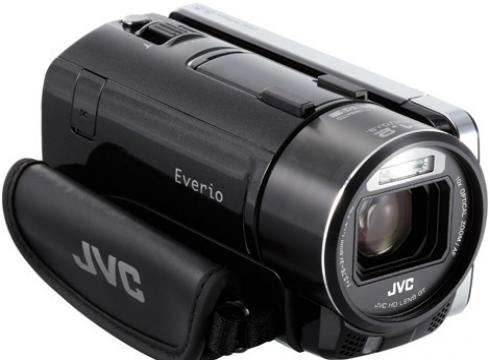 JVC- GZ-GX1 - RIGHT FRONT
Shop for the JVC GZ-GX1
Loading Recently Viewed Products
10-Mar-2011 Kodak Playsport Zx3 Camcorder Review

The Playsport Zx3 is an exciting ultracompact camcorder from Kodak that combines a Full HD recording capability with a body that is waterproof up to 3 meters. The camcorder's durable construction, and did surprisingly well in our video testing. Read More...
Top Rated